Posted by Erneshia Pinder on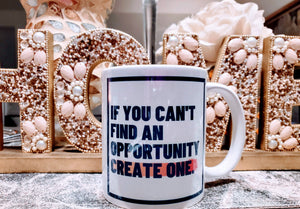 Sometimes, strategies shift and priorities change which can make your ceiling seem much lower than you would like. When that happens you can either resign that things will be what they will be our you can take matters into your own hands and chart a new path for yourself.
This brings me to today's moment in a mug... "If you can't find an opportunity, create one."
And while it may not come with an immediate promotion, salary increase or recognition, the opportunity you create just may be the stepping stone you need to take your career to brand new heights.